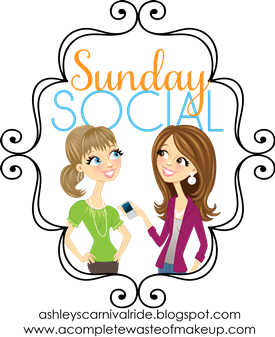 Today we Renee' (may or may not make it this Sunday as she may be recovering from Laundry/cleaning shock for Spring Break) and I (Kim) are participating in Social Sunday.
1. Favorite Type of work out to do?
~ I would have to say Running and BootCamp. Bootcamp I have been going to since I moved to TeXas and finally I am losing weight and gaining "tone".
2. Favorite Guilty Pleasure Candy or Sweet?
~ Yikes neither mine would be a HUGE Vat of French Fries (preferably from Portillios) with another HUGE Vat of Cheese to dip them in. You can read all about my food sadness since moving to TeXas HERE
3. What is one thing you continuously forget to do?
~ Clean.
4. Posts its or Phone Reminders? Why?
~ I am sooo a post it/ Note pad kinda gal. I have lists and lists that I use my cute Erasable pens on. I like to have that physical check list. Also trying to get off my phone for a bit.
5. Favorite Picture currently on your phone that always makes you smile?
~ Me (Kim) pulling over on the side of the road late at night to take a picture with the Oscar Mayer Wiener Mobile. This was my second time running into it by pure accident.
Thanks for Stopping by and we hope you will come visit with us at 2 Chatty Crafters again.