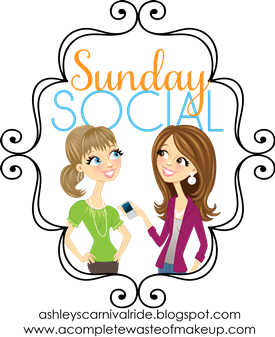 Today we Renee' and I (Kim) are participating in Social Sunday.
Thank you to Neely and Ashley for hosting some fun questions.
1. What is your favorite kind of surprise?
Renee: My favorite kind of surprise is when someone brings me something unexpectedly. It can be simple like an iced tea:) Just something when I don't expect it. A

Happy Surprise!
Kim: When Renee' shows up at my door unannounced.
2. Flowers or Chocolate?
Renee: Are you kidding? Chocolate! I like flowers but they die quickly and my cats kno

ck them down.
Kim: Chocolate...YUM
3. What is your favorite summertime activity?
Renee: My favorite summertime activity is sleeping. Once the school year is over I get to

catch up on some 'ZZZZ'sss':)
Kim: Swimming in our pool...Since moving to TeXas we can spend a lot more time out doors.
4. Do you have any vacations planned this summer?
Renee: Yep, Going to California with the family. LA and Palm Des

ert area
Kim: Possibly going to Destin Florida and Chicago to see all my friends.
5. Favorite Summer Holiday?
Renee: Is there another summer holiday bes

ides Fourth of July??? I enjoy barbeques and watching fireworks.
Kim: HuMMm I think there is only one...4th of July
6.What is your Dream Vacation?
Renee: Exploring other countries, especially Greece and then staying on some remote island like

I see pictures of on Pinterest
Kim: Bora Bora and Cruising Northern Europe, Scandinavian countries, and Russia.