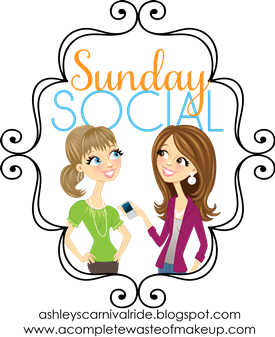 Today we Renee' and I (Kim) are participating in Social Sunday.
What is your shopping weakness?
Kim: I would have to say that currently my weakness shopping is things on clearance. I am a sucker for something that is marked down to .97 cents.
Renee: I love to find the bargain! Sometimes I buy just to say, " If I wear this one time, I get my money's worth!"
What is your food weakness?
Kim: Totally French Fries and Buttered Popcorn.
Renee: Anything with simple carbs..... breads, chocolate.....
What is your go to movie to watch when nothing is on?
Kim: First it is the soap opera I have been watching since High School Young and the Restless...but movie would be Bridesmaids.
Renee: Love Horrible Bosses!
What is your go to breakfast food?
Kim: Since I have turned Vegeitarian/Vegan my breakfast these days is usually left over dinner or fruit with peanut butter.
Renee: Right now, I like oatmeal with agave nectar, a little butter, cinnamon, and brown sugar. Yummy!!!
Do you drink Coffee? If so, how do you take it?
Kim: Yep you Betcha I do...I have it with my frothed Coconut Milk Hazelnut Creamer.
Renee: Ick!! Straight up iced tea plain.... that is it!
Thanks for stopping by...Be sure to follow us...Click here.
Kim from TeXas ~ Renee' from Illinois