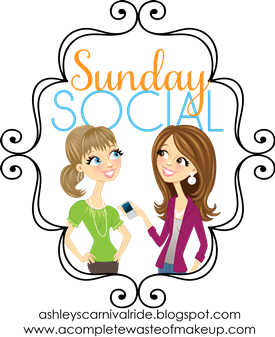 Today we Renee' (who may or not make it today it is her spring break and she is probably catching up on her laundry) and I (Kim) are participating in Social Sunday.
Thank you to Ramblings of a Suburban Mom who has been so great helping us along the way. She has introduced us to Social Sunday with Neely and Ashley.
If you are new to us Welcome and we hope you will enjoy our blog.
1. What is your favorite thing about spring?
Kim: I love that since moving to TeXas from Illinois spring has started in February and I have already planted my vegetable garden and may plant my fruit trees today. Though with spring here it has been tremendously windy. I thought Chicago was the Windy City but here in TeXas we are giving that phrase a run for their money.
2. Favorite kind of Flower to grow or receive?
Kim: Not a huge flower person but we did just receive a packet of sunflower seeds to grow. I kept reading the back of the package and it said 12', and I kept thinking gosh shouldn't they be much taller. I thought these things get to 12 feet (ding ding ding light bulb went on and the ole brain started working) so I think we will be planting some of these to see how they grow. Stay tuned because this will be added to Gardening with Kim on our blog as it gets bigger. Have you ever grown a huge SunFlower? How did that turn out?
3. Favorite Nail Polish Color?
Kim: This is a tough one because I hate painting my nails. Every time I paint them the very next day it begins to peal off. And REALLY who has time to paint their nails every day. Not me. But if I did have to pick colors they would be fall looking dark or I just recently purchased a pack from Ulta. That one was Mardi Gras colors that were a cool Mustard Yellow, Green and cool dark Purple.
4. What is your favorite Out Door activity?
Kim: That would have to be Camping. We have been camping since the tent ages and have moved up. Since moving to TeXas we have so many new places to go camping. Check out our camping spring break adventure. When we are not camping sitting by the pool with a glass of wine because yes you can swim in March here in TeXas.
5. Do you have any Fun Spring Break Plans?
Kim: Yes we did Camping. LOL Check it out here and I am working on a blog about the places we camped coming soon. Hope you will stop by and check it out.
At the End of the Day ~ Thank you for letting us join your Social Sunday and we will be back next week. ~Kim from TeXas